Vitamin C Bath Filtration
To Remove Chlorine and Chloramines


by Nancy Hearn, CNC
Note: As an Amazon Associate I earn from qualifying purchases.
Vitamin C bath filtration is a highly effective way of removing chlorine and chloramines, and it is inexpensive.
You simply add either Vitamin C powder or Vitamin C tablets and remove 99% of free chlorine and 99% of chloramines from your bath water.
There are two different forms of Vitamin C that will effectively neutralize chlorine—ascorbic acid form and sodium ascorbate form.
According to a study conducted by the U.S. Department of Agriculture:
"Vitamin C effectively neutralizes chlorine and is safer to handle than sulfur-based dechlorination chemicals. The sodium ascorbate form of vitamin C has less effect on pH than the ascorbic acid form. When neutralizing a strong chlorine solution, both forms of vitamin C will lower slightly the dissolved oxygen of the treated water. If passive dechlorination is not practical, we recommend a form of vitamin C."
Why Do I Need to Filter My Bath?
If you are showering or taking a bath in unfiltered tap water, you are most likely getting a high daily dose of chlorine and chloramine. 
You can find documented reports of the health risks associated with the cumulative effects of drinking and bathing in chlorinated water. A few of the dangers listed in Dr. Mercola's free report online include:
Tiredness, dizziness and headaches
Eye, sinus and throat irritations
Allergies and asthma
Rashes, dry skin and scalp
Arthritis
Liver and kidney problems
Weakened immune response
Heart attacks
Cancer, and more . . .
Yes, it's true, the harmful disinfection by-products (DBPs) of chlorine, such as trihalomethanes (THMs), have been shown to cause cancer in lab animals. In addition, children and elderly adults are at highest risk.
You can read more here on the health risks associated with bathing in Chlorinated Water.
Vitamin C Bath Filtration - Powder or Tablets
The best solution for removing toxins from your home water system is by installing a whole house water system. 
The whole house systems will remove not only chlorine and chloramine but many other contaminants as well. However, whole house systems are relatively expensive. 
The good news is that you can at least neutralize 99% of the chlorine and chloramines from your bath water by simply adding vitamin C powder or tablets.
You will need to add 1,000 mg of pure Vitamin C to a full bath to neutralize these toxins. 
In powder form, this will usually be about ¼ to ½ teaspoon of powder or crystals (check the label).  Or 1-2 tablets depending on how many mg of vitamin C are in each tablet.
As an example, one of the pure ascorbic acid products we sell at the vitamin store where I work is the Now brand Vitamin C crystals (ascorbic acid). 
Serving size is ¼ tsp for 1,000 mg, and there are 413 servings included.  With tax added, this comes out to be about 4 cents per bath. Pretty cheap for the benefits!
How To:
Fill the bath tub
Add 1,000 mg pure Vitamin C (either as powder or tablets)
Wait 2 to 5 minutes before getting in the bath to allow the Vitamin C to work
Enjoy a dechlorinated bath!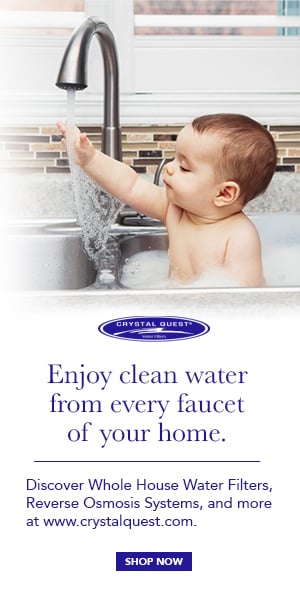 Further reading . . .

Bath Water Filter Reviews and Recommendations
Return from Vitamin C Bath Filtration to Shower and Bath Filters
If you would like to reproduce or republish this article or any other article on this site, feel free to do so but please include a reference or link to the article at WaterBenefitsHealth.com.