Best Water Filter Pitcher


by Nancy Hearn, CNC
Note: As an Amazon Associate I earn from qualifying purchases.
The best water filter pitcher criteria come down to three key factors, in my estimation:
Water filtration effectiveness
BPA-free plastic pitcher and ease of use
Value for the size of the pitcher, as well as the cost of the replacement filters and how often you have to replace them.
The brand I have chosen for this recommendation is Crystal Quest. This is a company that has an A+ BBB rating and over the past 15 years of reviewing water filters, I have found they are the most information and technologically advanced company for both residential and commercial use.
Thus, I own one of their drinking water filters and recommend many of their water filter systems to friends and family.
The Crystal Quest® pitcher has the best filtration media (4 stages of filtration) on the market for water filter pitchers.
These pitchers are BPA-free and provide 2,000 gallons (6 to 12 months) of filtered drinking water. These filters last much longer than most other water filter pitchers on the market.
They hold 8 to 12 cups of water and come in either clear or light blue color.
The pitcher has a space-efficient shape that fits easily into most refrigerators (9"L x 4"W x 11"H). It has a convenient flip-top lid for easy re-filling and the handle is comfortably designed.
4-Stage Filtration Process
Stage 1:  Eagle Redox Alloy® 6500 reduces (or removes) chlorine and water-soluble heavy metals, including lead, mercury, arsenic, chromium, and cadmium. This process also controls scale, algae and bacterial growth. This is especially important because bacterial grown is a common problem with many other water pitchers. This filtration medium has International Certification as well as Standard 42 certification for drinking water treatment units
Stage 2: Eagle Redox Ally® 9500 reduces (or removes) iron and hydrogen sulfide from tap water or other water sources. It can remove up to 99% of water-soluble chromium, lead, mercury, and other dissolved metals.
Stage 3: The CQ pitcher also has an ion exchange resin that reduces heavy metals such copper, Zinc, aluminum and water hardness. It is certified by the Water Quality Association (WQA) to 61 Standard.
Stage 4: This process involves Coconut Shell Granulated activated carbon and Catalytic activated carbon. This process reduces chlorine, chloramine, pesticides such as lindane and atrazine) and eliminates bad tastes and odors.
Specialty Filtration Options
In addition to the Standard/SMART 4-stage filtration, Crystal Quest provides other filtration cartridges for specific purposes, such as (1) alkalizing, (2) demineralizer, (3) arsenic removal, and (4) fluoride removal.
Return from Best Water Filter Pitcher to Drinking Water Filter Reviews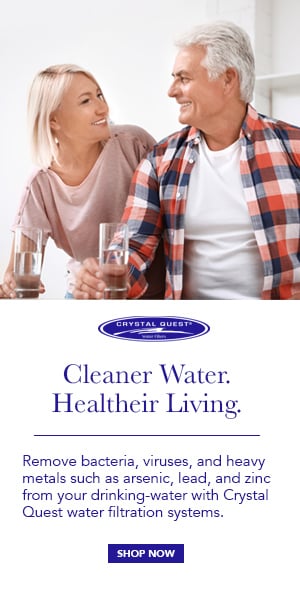 If you would like to reproduce or republish this article or any other article on this site, feel free to do so but please include a reference or link to the article at WaterBenefitsHealth.com.